Paddle for Pink, West Windsor, NJ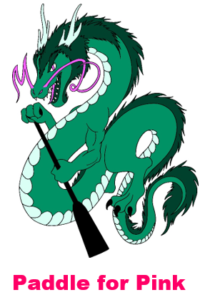 Date: June 17, 2023
Time: 8am to 4pm
Submit Payment Here
Register For This Race
RACING CLASSES
BCS
Club Mixed
Club Open
Club Women
Festival Community/Corporate Open
Festival Community/Corporate Women
Youth Club Open

ENTRY FEES
$1600 - Club/Community/Corporate - PfP Regular Price for ClubCorCom Teams
$1400 - BCS - PfP Regular Price for BCS Teams

RACE COURSE
250m for Community/Corporate Teams 500m Club Teams
RACE FORMAT
Each team will receive 3 races.
RACE SITE
Mercer County Park
Lake Tower Field
(between Marina Boathouse &
Tennis Center)
West Windsor, NJ
June 17th – Mercer County Park, NJ

WE ARE BACK!!!
Register before the deadline!
May 15th!
NOTE: Registrations received after May 15th will incur a $200 surcharge.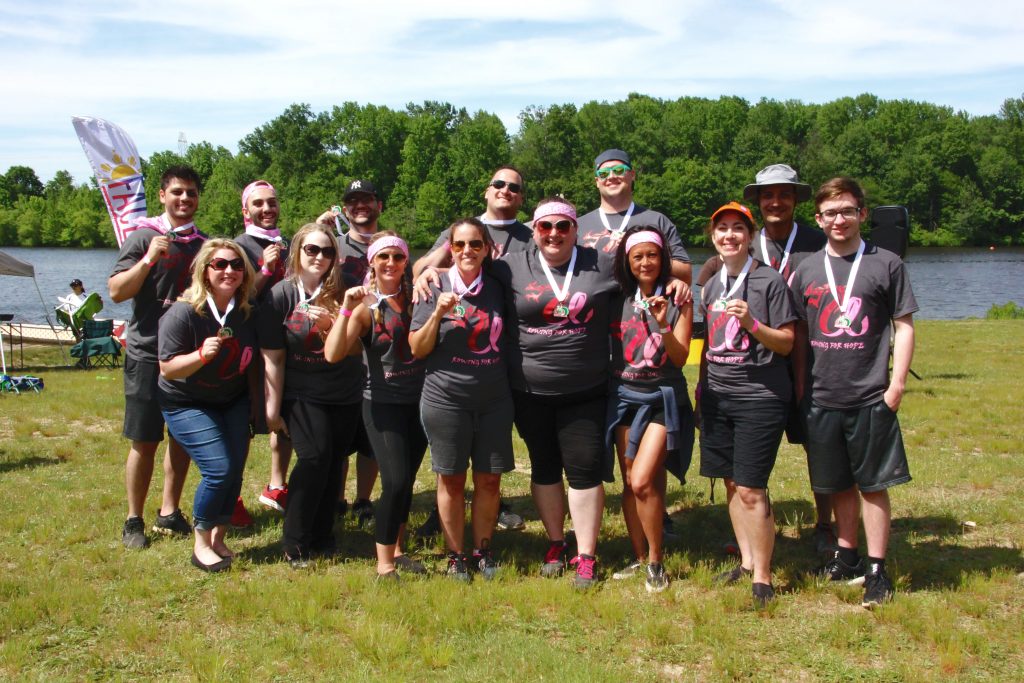 Registration now open!

BCS $1400

Club/ Community/Corporate $1600

After the May 15th deadline, a $200 surcharge applies:
BCS team fee will be $1600
Club/Community/Corporate team fee will be $1800
Pay by credit card or by check made out to:
Machestic Dragons
P.O. Box 2540 Hamilton Square, NJ 08690

In the Fall of 2019, The Machestic Dragons donated $5,000 to The Healing Consciousness Foundation (HCF), supporting their goal to help breast cancer survivors become thrivers. Machestic Dragons board members Susan Wieszczek and Roberta Gernhart, also presented a check for $5,000 to Melissa White-McMahon, support services coordinator for the YWCA Princeton Breast Cancer Resource Center (BCRC). The Machestic Dragons are thrilled to aid the BCRC in their mission to provide personalized programs and services which enable women to live with, through and beyond breast cancer. In 2018, the BCRC drove more than 15,000 miles while providing over 50 women with transportation while navigating treatment, had over 125 fitness and wellness program participants, had over 195 wig, prosthesis, and bra participants, had over 65 support group and private counseling participants, and reached over 5,000 individuals through their outreach & education program.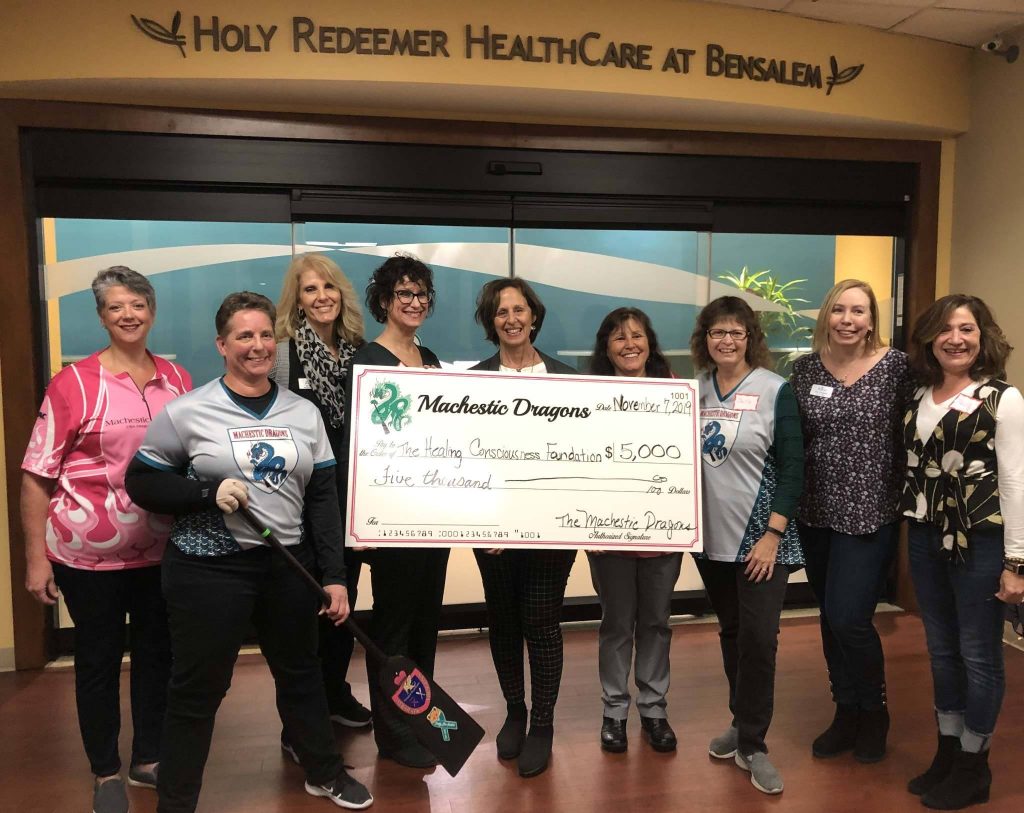 In supporting their mission and non-profit status, Paddle for Pink dragon boat festival, is held as a fundraiser as well as to increase breast cancer awareness. Proceeds are donated to local programs that provide free services to breast cancer patients/survivors…
$5000 donated to The Breast Cancer Resource Center
http://www.ywcaprinceton.org/About_BCRC.cfm
$5000 donated to The Healing Consciousness Foundation (HCF) and Bucks County Breast Friends (BCBF) www.thehealingconsciousness.com
or www.hcfbucks.org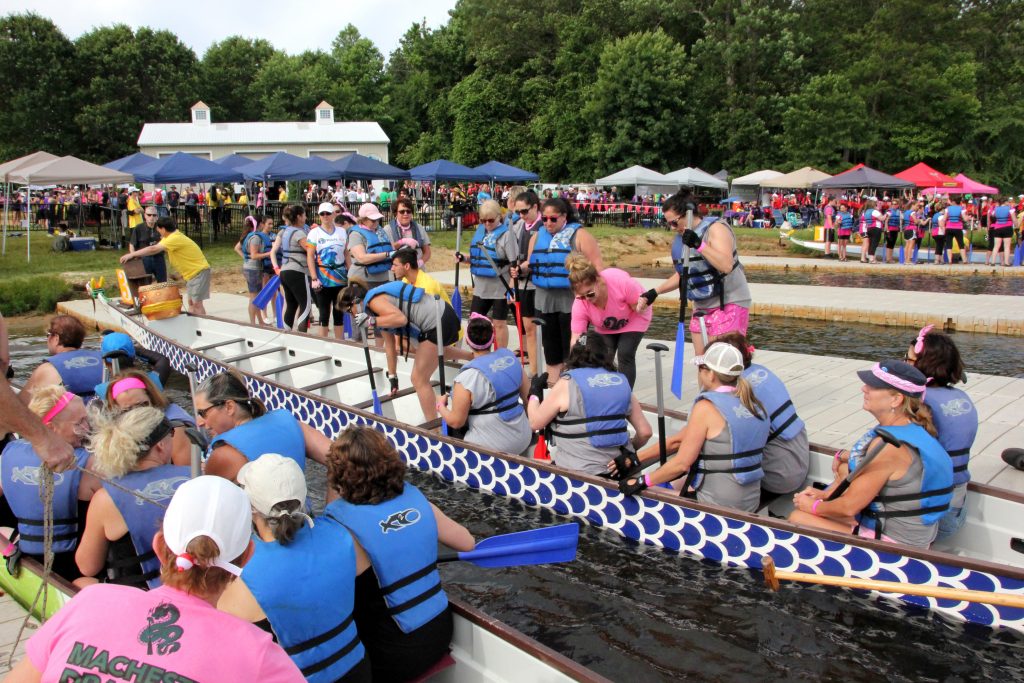 To promote good sportsmanship and fairness, please follow these racing division/class guidelines when forming and registering your teams:

Community/Corporate Teams – this division is reserved for novice crews with little or no experience of racing. Entry examples are crews representing corporate (commercial/ business), community organizations (i.e., Fire, Police, EMS, schools, fitness centers, etc.) and Friends/Family groups. Community teams are not members of dragon boat organizations or clubs, typically only race one festival a year, but not more than three festivals. Teams who are not true community teams will be moved to the Sport Team division.

Club/Sport Teams – this division is for crews experienced in racing, paddlers are generally members of dragon boat organizations or clubs, have access to boats and equipment (owned or rented) for practices during the paddling season and has more practice experience than the (1-3) practices the festival host provides.

Breast Cancer Survivor (BCS) is a separate division, not class. Paddlers must be survivors and may be inclusive of female and male crew members. Drummer and steer may be non-BCS. A breast cancer survivor has been defined by the International Breast Cancer Paddlers' Commission as "a person who has been diagnosed with breast cancer."
Open Class – The primary class of racing and there are no restrictions on crew composition.
Women's Class – All paddlers must be female.
Mixed Class – Crews must consist of an equal number of male and female paddlers (10/10, 9/9, or 8/8). Available to club teams only.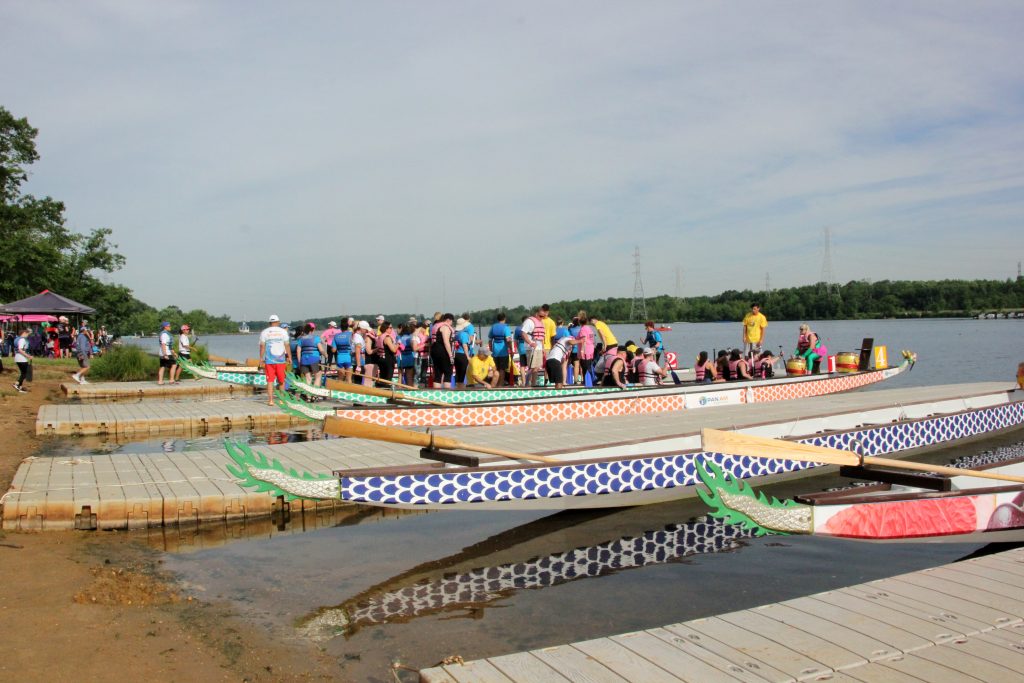 NOTE: ALL COMMUNITY/CORPORATE TEAMS WILL SCHEDULE THEIR ONE FREE PRACTICE ON THE PADDLE FOR PINK WEBSITE WITH THE MACHESTIC DRAGONS.
CLICK HERE to book your practice session.
FOR PARTICIPANTS OF MINORITY AGE (UNDER AGE 18 AT THE TIME OF REGISTRATION)
YOU WILL NEED TO PROVIDE A PHYSICAL WAIVER TO BE SIGNED BY THE PARENT –
Please download this form by clicking here: Junior Waiver
Special offer for YOUTH CLUB OPEN
teams who belong to ERDBA!
You can save 50% off your registration fee by qualifying for a sponsorship through the ERDBA & Paddle for Pink! Discounted fees are only for Youth Club Teams applying for the ERDBA sponsorship matching program. Sponsorship must be approved by ERDBA prior to the festival to participate, or full fees will be charged. A Youth team is defined as a minimum of 14 paddlers in the boat who are under 23. The program sponsors up to 2 youth teams from each ERDBA club at each event. Teams must receive sponsorship approval in advance from the ERDBA treasurer and Paddle for Pink prior to payment, if they plan to use the ERDBA 25% team entry sponsorship & matching Paddle for Pink sponsorship.
Contact for Paddle for Pink:
Machestic Dragons: [email protected]
Contact at ERDBA:
ERDBA Treasurer: [email protected]